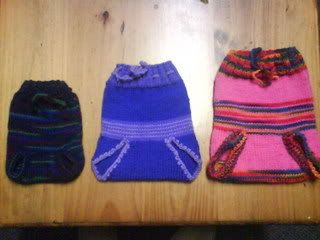 So what have I been knitting? Soakers, soakers, and more soakers! They're newborn, small, and medium size in the unreal Punk Knitters pattern. I love this pattern - and it gives me a chance to use my addi turbo circular needle for a quick project.
check it out!
From left to right -
Newborn size: 100% wool with leftover 100% wool stripes throughout. I've lost the bands for the main wool ...... but I know its 100% wool because I remember paying for it!
Small size: Cleckheaton Country 100% wool (with leftover wool stripes again!). Love love LOVE this wool.
Medium size: Cleckheaton Country 100% wool in hot pink, and Tekapo Sunshine 100% NZ wool for the cuffs, waistband, and stripes throughout.
My bubba is wearing the medium size over her nightnappy right now, the other two will hopefully find a new home.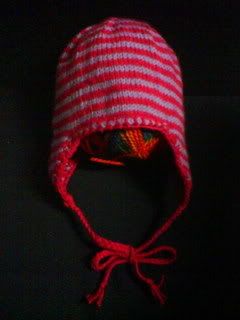 And a hat I knitted in acrylic to try out a pattern - so another addition to the project list is knitting this in lovely scrummy wool :)