Some pics to share of previous dyeing attempts.
Pink wool dyed with red koolaid (to make pink, and darker pink variegated wool)
I then knitted the wool up into the soaker on the top right hand (newborn size)
Some yellow handwash wool that I dyed with orange koolaid (to make yellow and orange variegated wool).
I then knitted and felted the wool up into a needle holder - there wasn't much of it so i had to think of something smallish!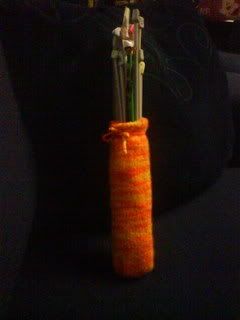 And the latest attempt - an experiment in how much koolaid NOT to use with 50g of wool. The wool began as a double stranded wool - one strand navy blue, the other a white ---> medium blue colourway. Apparently 2 packets means that you'll get a very strong red colour throughout the whole variegated section, instead of a nice pink ---> purple (double stranded with the navy blue) wool. And it also felted as I was washing it afterwards ....... *sigh*. But I slowly unravelled it and wound it into a ball ..... and will figure out something to do with it eventually!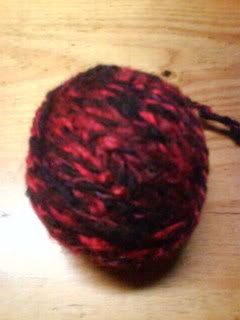 And a lovely lovely present that I recieved today from a friend who just came back from the states ...... now, to wait for my wool to arrive so I can use this!