I've been doing some sewing/knitting for a friends baby shower I went to on the weekend. She had a children's library theme, so I did buy her books, but also couldnt resist making other stuff too!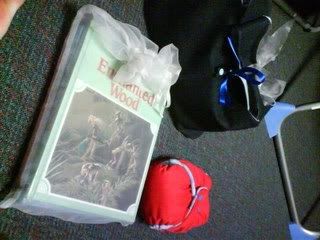 So I bought her 3 Enid Blyton books - The Enchanted Wood, The Wishing Chair, and The Wishing Chair again. I wanted to buy her the Magic Faraway Tree but couldnt find it in the edition that matched these other ones. I also made her a small nappy, and I made the Tiny Happy bag out of denim and spotty baby blue fabric (she's having a boy). I really enjoyed sewing this bag, it was really cool to make something different for a change, and also something that I will be able to make for myself too!
And inside the bag I put all this stuff - Wetbag (for nappies, wet clothes, bibs etc when you're out), Newborn earflap hat out of Shepherd Colour4Me 8ply wool, a change mat out of Pul and microfleece, 3 bibs, 6 pairs of breastpads, and 3 scrummy face washers made out of bamboo velour and BKT.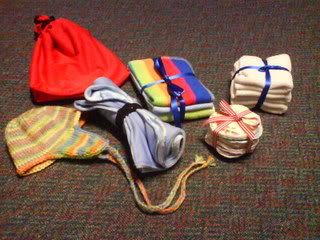 And here it is .... drumroll please .... the start of my first ever sock! It's in 8ply on 3.25mm dpn's, out of the wool I dyed, which is knitting into a cool spiral pattern. Off to knit some more on it :)