It's yet again been a long time since I've updated this. I do often think of my blog; i checked out alot of blogs close to Christmas trying to get inspiration for lovely homemade Christmas presents for family. I found ALOT of inspiration but somehow didnt find the time to make many of the things that I found, so I settled for eco-shopping bags (which I made with this pattern 
http://www.craftster.org/forum/index.php?topic=177482.0)
and also some more of these knitted dishcloths - this one is mine though! This one is made from 100% bamboo yarn; the ones I gave away were cotton, cotton/bamboo blends, and bamboo. I knitted them all to the same pattern - it was much easier on my brain that way! I'm sure I'll branch out into another pattern one day.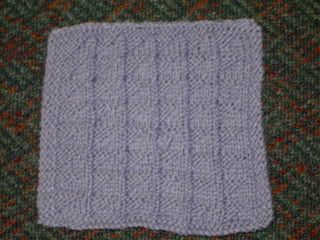 Some nappies I finished awhile ago for a friend - still lots to finish though.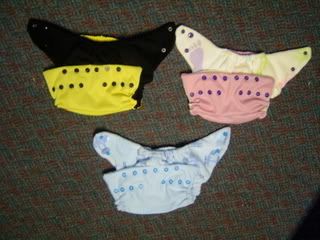 A bag I made for a friend's birthday, again from the tiny happy pattern. Both fabrics had a bit of stretch to them, so the bag itself doesn't have much body/shape to it, which I wasnt happy with, but its just another thing to learn for next time. Next time, it'll be either stretchy fabrics + interfacing, or at least one of the fabrics will be a bit stiffer.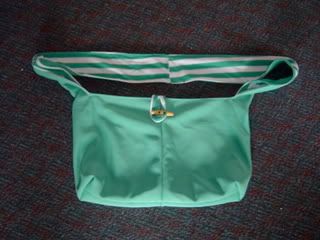 Don't think I've announced this on here yet .... but I'm pregnant with our second child :) And if I have announced it already, thats just proof that pregnant brain is here to stay! I've really only just popped in the last month or so (I'm 21 weeks now) and I realised I had nothing to wear! (yes, a typical female problem, but exaccerbated by the fact that last time I was pregnant it was the opposite season to now, so I have lots of warm winter maternity clothes but no summery cool things). So I made up this skirt from some fabric I'd bought that I'd fallen in love with at the store .... it was originally purchased for bags but instead inspired me to make the first piece of clothing I've made for myself since the pajamas I made in high school sewing class :) I made up the pattern from random snippets of information I had in my head about skirt patterns ... not ENTIRELY happy with the result, but I was proud of myself for doing it anyway, and I think I'll wear it, so thats something in itself!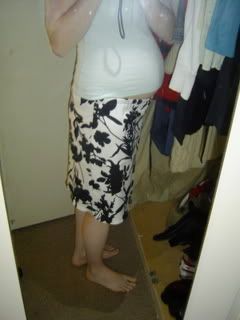 Now for my debut cooking post. I received a bench-top mixer (also known as a MixMaster) for Christmas and decided to take it out of its box to make a citrus meringue pie (from the recipe book that came with it) to take to a friend's house for New Years Eve. While the meringue wasn't as tall as it could have been, it was pretty good for a hot day, and the finished product was indeed yummy (and it even survived the car-ride there, with a lady trying to run into our car and everything!)