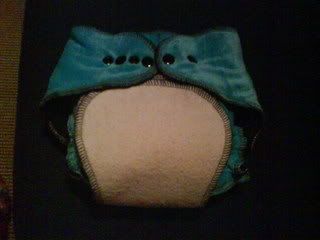 I spent the day sewing night nappies for my bub today - making one from scratch and putting new elastic in two which had definately lost the ability to hold in the poo!
I traced this nappy off one which I bought .... but I'm not selling it, so I'm not completely evil.
It's an outer layer of blue bamboo velour, hidden layer bamboo fleece, inner black microfleece.
There's an external (outside the nappy) booster of four layers of hemp fleece, overlocked together in 2x2 layers so it'll dry faster, and snapped onto the outside of the nappy.
There's an internal snap-in soaker of one layer microfleece and microfibre, then two layers of bamboo fleece, again sewn in 2x2 layers for quicker drying. I like to put the microfibre directly underneath the microfleece so there's little or no chance of it rubbing anywhere on bubs, but it still absorbs the liquid quickly to go into the bamboo underneath.

The nappy in its two settings - smaller for a smaller bub, bigger for a bigger bub. It SHOULD be a "one-size" but we'll see over time if I can use it on my new bub and my other little one who will then be 21 months.