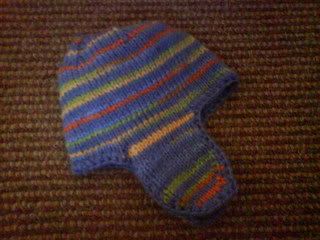 Some knitting ....
An earflap hat for my bub who's arriving in around 3 months (eek!) .... yet to put the ties on.
.


Some small longies for the new bub, the picture has come out very bizarrely - the yellow is much more muted and doesn't glow in real life! Knitted with the green/blue seasockwool I dyed with Koolaid and yellow Bendigo Woolen Mills wool. They also have a gusset - my first gusset in longies and I now will be doing them in every pair from now on (thanks Nova from TNN for posting her instructions on the "Angel" gusset)
This one is my first minky nappy (for a friend) - think I'll have to get some for me!
This one I really like as well - but again, its for a friend. The pul is poly, so its lovely and stretchy and will fit better than normal non-stretchy puls.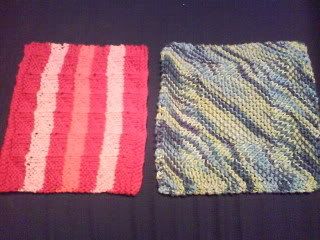 Finally finished two dishcloths, one for me, one for DH (so he can clean around his coffee machine - hopefully!)